About the Book:


Anne-Rae Vasquez is currently writing "RESIST" book 2 of the Among Us Trilogy. Her latest novel Doubt, Book 1 of the Among Us Trilogy was released on November 9, 2013 at the Rain Dance Book Festival. Among Us Trilogy is a book series about a group of outcasts (online gamers) who band together to investigate who or what is behind the catastrophic events happening around the world. Her previous novel, Almost a Turkish Soap Opera, was adapted into a screenplay and later produced into an award winning feature film and web series and was her directorial debut. Aside from her artistic work, Anne-Rae is the creator/producer and host of Fiction Frenzy TV (fictionfrenzy.tv), a VLog channel featuring indie artists and authors. She also freelances as a journalist for Digital Journal, an online magazine Other works include: Gathering Dust – a collection of poems, Salha's Secrets to Middle Eastern Cooking Cookbook published by AR Publishing Inc. and Teach Yourself Great Web Design in a Week, published by Sams.net (a division of Macmillan Publishing).
Enter to Win a $50 Amazon Gift Card!
Enter below to enter a $50 Amazon gift card, sponsored by author Anne-Rae Vasquez! a Rafflecopter giveaway This book blast is hosted by Crossreads. We would like to send out a special THANK YOU to all of the CrossReads book blast bloggers!
We are thrilled to announce that The Dreamstone, book two in The Dream Keeper Chronicles is now available in audiobook. If have never had the opportunity to listen to an audiobook before, now is your time! An audiobook is a wonderful way to enjoy a book. It brings a level of richness and art to the book you can't get with just words alone.
Dorothy called it Oz, Alice Called it Wonderland, but Nightmares call it HOME.
When an evil shifter takes over the gateway to the realm of Dreams, it falls to 14-year-olds Parker and Kaelyn to stop him. Their only hope lies with Gladamyr, the Dream Keeper, but can they trust a Nightmare to save their world?
When Parker's mom is dreamnapped by the wicked Mab, it is up to him and Kaelyn to save her. When they return to Dreams, they discover Mab isn't their only problem. Gladamyr has lost his powers and the only way to get them back is to become what he fears the most—a nightmare.
"A fun, fantastic ride through both Dream and Nightmare. Brooks has written a book that can be enjoyed by young and old alike. Bravo!" ~Michaelbrent Collings, bestselling author of The Billy Saga
"A wild stallion of a story: fast, thrilling, and unpredictable. If this one isn't a kid-pleaser, I don't know what is." ~Michelle Isenhoff, author of the Taylor Davis Series 
"I listened to The Dream Keeper on audiobook and absolutely loved it! Anthony Bianco did an outstanding job of bringing each character to life." ~L.R.W Lee, author of The Andy Smithson Series
"My heart hammered and I couldn't tear my eyes away from the page. I felt every emotion the characters did, I laughed, I cried, I felt fear while reading this book." ~Amazon reviewer
"If you like the Percy Jackson, Fablehaven, or the Harry Potter series, you'll love this!" ~Amazon reviewer
A themed book tour through Prism Book Tours.
(The Lily Sparrow Chronicles #1)
by Kristee Ravan
YA Urban Fantasy
Paperback, 367 pages
March 17th 2014

Fairy tales are naturally non-mathematical. That is a fact, and fifteen-year-old Lily Sparrow loves factual, mathematical logic. So when her mother confesses that Lilyís deceased father is (a) not dead, (b) coming to dinner, and (c) the ruler of a fairy tale kingdom accessible through the upstairs bathtub, Lily clings to her math to help her make sense of this new double life (1 life in the real world + 1 secret life in the fairy tale world = a double life).
Even though itís not mathematical, Lily finds herself being pulled into a mystery involving an unhappy Cinderella, a greasy sycophant called Levi, and a slew of vanishing fairy tale characters. Racing against the clock, with a sound mathematical plan, Lily attempts to save her fairy tale friends while proving that normality = happiness.
My Review: ****
This is definitely the most unique fantasy novel I've read in a long time (and I read a lot of fantasy)!  I love the main character and the way she views the world in terms of math.  Everything she experiences is part of a math problem to her.  For example, "I stood stupidly off to the side like an extra piece of information in a word problem.  (Sarah has three marbles and seven pencils.  Danette has two pencils.  How many pencils do Sarah and Danette have together?  Answer = nine pencils.)  I was the three marbles that no one needed."  I thought this was a hilarious but vary effective personality trait for her.  The writing style is humorous and easily kept my attention all the way through.
On the negative side, some scenes lapsed into "telling, not showing", and I felt a few details could have been tied up better at the end.  Plus, there were some typos and errors in punctuation and general English usage.  The consistent mistakes in capitalization and punctuation around direct quotations were especially irritating and showed a lack of professional editing.
However, I still felt that the book was written well enough to merit four stars in spite of those issues.  The main character was unique and definitely stood out in a way that makes her story memorable for all the right reasons.  I'm looking forward to reading more by this author.
-Annie Douglass Lima
Calling for Reviewers!
We're looking for reviewers! You don't need a blog to sign up, but you do need to at least post a review on Amazon. Other sites (blog, Goodreads, etc.) are also appreciated. Reviews must be completed by the end of November. To sign up, please fill out this form.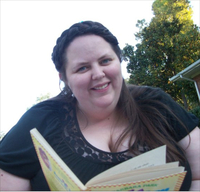 Kristee Ravan lives in Oklahoma with her husband, daughter, and pet fish, Val (short for Valentine). She wanted to be many things as she grew up including a general, an artist, and an architect. But she never bothered to say, "I want to be a writer when I grow up." She was always writing stories and thought of herself as a writer anyway. She sent her first story to a publisher in the sixth grade. (It was rejected – in a nice way.) When she is not making up stories in her head, she enjoys reading, juggling, green smoothies, playing dollhouse with her daughter, and hearing from her fans. You can contact Kristee at the facebook page for her Lily Sparrow books: The Lily Sparrow Chronicles.
Website – Goodreads – Facebook – Amazon
Tour-Wide Giveaway
5 copies of The Cinderella Theorem (print for US winners, ebook for international winners)
Ends August 31st
Follow the tour!
August Dates:
11 – Launch
12
13
14
15
17
Letters from Annie (Douglass) Lima
18
The Crazy Antics of My Creative Mind
19
20
21
22
24 – Grand Finale
About the Book:
This collection features 40 Amish Romance stories by Becca Fisher including:
The Amish Wedding Series
Rebecca Lapp has her life back together after a tough break up. She's found a new man and is finally happy once again. But when her ex comes back into town wanting her back, Rebecca will be forced to make a decision that will change her life forever.
The Chasing Heaven Series
Hannah Bieler's wedding is more than just cause for celebration. It gets her sisters wondering when they will get married, who they'll fall in love with, or whether God has other plans for them entirely. But it becomes clear that although the Amish are simple people, their love lives are anything but.
The Let Love In Series
When Jenna loses her husband in a horrible accident, she never thinks she can love again. But she suddenly finds herself a single Amish mother and knows that her children need a father figure in their lives. So when a handsome stranger rides into town a year later and takes a liking to Jenna, she has to decide if she can ever let love in again, or risk losing a man that could bring her happiness.
The If I Stayed Series
Hannah and Sadie Miller have always been desperate to explore the world. So when rumspringa comes, they want to go to the big city. But are the sisters willing to risk losing everything that's important to them when their parents insist that they stay in Lancaster?
The Amish Christmas Series
Joshua Zook and Sadie Miller have been dancing around their feelings for months. But just as Joshua works up the nerve to admit how much he cares for Sadie, he realizes that he may be too late to win Sadie's heart.

"I'm Becca Fisher and I write sweet Amish romances featuring simple people with complex love lives. I'm devout in my faith, relish time with my family, and seek to bring joy to as many lives as possible. I would love to have you as a reader. God bless. If you would like to be the first to know about my new books, join my mailing list here http://eepurl.com/s3WIT."
Enter to Win a $50 Amazon Gift Card!
Enter below to enter a $50 Amazon gift card, sponsored by author Becca Fisher! a Rafflecopter giveaway This book blast is hosted by Crossreads. We would like to send out a special THANK YOU to all of the CrossReads book blast bloggers!
The Karini and Lamek Chronicles is an endearing fairy tale of High Fantasy. Enter a world of fairies, dragons, dwarves, and elves in The Land of Serenity, a magical world where possibilities are endless and truth makes a difference.
From one reviewer: "Cynthia does an expert job of creating memorable and interesting characters who rapidly endear themselves to you with their exploits and personality traits. Her book[s] are good for young readers, with lots of action and adventure to hold their interest while also being very parent-friendly." ~ Krystine Kercher
The Land of Serenity is a beautiful land full of lush forests, scenic mountains, and a huge castle! Fairies dance on flower petals, dwarves mine for diamonds, and then there are the dragons…. are they good or evil?
The mushroom village where the fairies live would be a lot of fun. Just watch your step! Then we could split into groups to see which group could find the secret cave first! A visit to Mount Flog to meet the snow parrots would be interesting, but bring a snow suit! We could hop in a mine cart and visit the dwarves…diamonds anyone? If you're not scared of getting lost in the woods, we could hike up Mount Chesney and search for Natas' cottage. If nothing else, we'd have to take a tour of the castle.
Well, watch out for the dragons, giants, and trolls. But they're nothing compared to Natas.
There's no telling what Filmer will cook, but he specializes in dumplings. The fairies would love to serve you tea and cakes though!
It depends on who it is, but many use wands, teleportation, and animal transformation. In other words, MAGIC!
The Land of Serenity is full of mythical creatures. Just about anything you can think of is there. If you can tame a dragon, you can hitch a ride on it. Then again, it might be more fun to befriend a witch and hop on the back of her broomstick!
Magic plays a huge role in the Land of Serenity. There are good witches and wizards, and there are evil ones. We learn in book 1 a secret that has to do with magic, but I don't want to reveal it.
Not really. For the most part, the folks in The Land of Serenity live a lot like people in medieval times did.
Not directly. Characters demonstrate faith in God, but I don't go into a whole lot of detail with it. However, the good morals and lessons in the stories reflect my own Christian upbringing.
The Land of Serenity is supposed to be ruled by a king, but that was before the dragons took over….
Magic is controversial enough! As a writer who is also a Christian, I have had to defend this series, but most Christians are accepting of it once they realize it's not much different than the writing of C.S. Lewis. The Bible is clear when it comes to the presence of evil, and fantasy and the use of magic is one way to demonstrate good versus evil.
Author Autobiography:
Today I welcome Author Monique Bucheger and her newest book to my blog!
What do you do when all you've thought important seems like a charade? Meet Lainey Sparks, worship leader turned Christian recording artist. People look to her to lead them to God but she doesn't know her motives anymore. Then she's introduced to Nick DeAngelo, a man with a secret. Could he ruin her reputation and ultimately her career? Or is he the only one she knows to lean on when tragedy strikes? 
The first book in the Faith & Fame series. Novella Length Christian Romances.
**99 cents for a limited time
Afternoon with the Cole Boys
Max, Ricky, and Sam snaked through the underbrush, arriving at their fort ten minutes after the final school bell rang. "How long you think Jessie is gonna keep going to these tutoring sessions?" Ricky asked.
"Until he's caught up and his grades improve," Sam replied.
"It was more fun when he didn't care about school and we could all hang out together. I miss going hunting or fishing anytime we wanted," Ricky said.
"Remember the first time we took him hunting?" Max asked. "He had just turned ten and had been begging us to take him out for weeks."
Sam laughed. "Yeah, he was barely taller than the rifle, but he managed to bring home a rabbit and two ducks."
"All those days of hiding in the woods with me when Pop was out of blood taught him the importance of keeping quiet," Max said.  "The animals didn't even seem to know we were there, they'd come within feet of us before catching our scent and taking off."
"You both would do good to take some interest in your own school work," Sam said.
"What's the point?" Max frowned. "I'm almost done and will probably end up being sent to Vietnam. All I need to know over there is how to keep my head down."
"You don't know you will called up and what about when you come home? You don't want to work at the grocery store forever do you?" Sam asked.
 Max opened his pocketknife, picked up a stick, and started shaving off the bark.
"I'm going into construction when I get out of school," Ricky said. "I won't need to know about English or science or any of that boring stuff."
Sam sighed. "Well, I'm glad Jessie is trying to improve his grades and we need to be supportive of him. I think it would be pretty cool to have an astronaut in the family."
Max looked up from his whittling and grinned. "Wouldn't that be a real punch in the face to Pop?" 
"Give Dad a break, he's trying to get his life back together and I think he'd be proud of Jessie if he made it into the astronaut program," Sam said.
"Yeah, yeah, enough talk about school. Let's go fishing." Ricky pushed himself off the ground and brushed some leaves off his shorts.
"A nice big trout for dinner does sound good," Max agreed.
The boys raced through the trees, across the ditch, and down the dirt road to the back door of their house. Ricky arrived first, bending over to catch his breath, Max and Same close behind, barely winded. "You okay, Ricky?" Sam asked with concern. Ricky nodded, taking large gulps of air. Max pulled three fishing poles from a tangled mess in a corner near the back door while Sam located the tackle box. When Ricky's breathing returned to normal the boys set off toward the river.
About the Book
The four Cole boys suffer abuse at the hands of an alcoholic father, while largely being left to their own devices by a heartbroken and overworked mother. Their adventures on their island home have become a welcome escape, and one of the only things in life the boys can truly rely on. Jessie, the youngest and a dreamer, becomes enamored with US plans for manned space flight and its race to the moon, stirring his own dreams of one day becoming an astronaut. In a strange twist of fate, it is the space program and the momentum it gains that abruptly brings their beloved island life to an end. The family is forced to move to the city and start anew. Life in town creates new challenges, financial pressures, news of the Vietnam War and the impending threat of the military draft for Max the eldest of the Cole brothers.
About the Author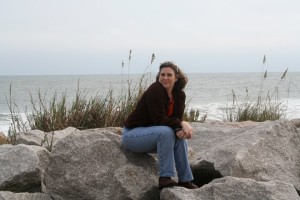 Rebekah Lyn is a popular Indie writer with a strong following of loyal readers who enjoy her inspirational novels of Faith, Adventure, and Hope. She is a Christian with a heart for new beginnings, and her desire is to reflect that in each of her books. Rebekah is a sandal-loving native Floridian, growing up in Titusville, Florida, within sight of the Kennedy Space Center. This was an exciting time to live on the Space Coast, with launches taking place on a regular basis. Growing up, the best place to watch a launch was at the edge of the Indian River, just blocks from Rebekah's home. Fond memories abound of windows rattling and dogs barking as the big Saturn rockets or the Space Shuttles raced into the heavens. Sonic booms made everyone jump as the astronauts returned from space, and sometimes she could get a glimpse of their return in the skies above her home. She will always be proud of America's space program. An eye witness to the Challenger disaster on January 28, 1986, she and her fellow classmates watched with horror as the historic event unfolding before them. This event became a personal and lasting memory. An active participant in social media, Rebekah enjoys interacting with her readers, particularly at her her signature "Tea with the Author" events.
Rebekah Lyn Invites you to purchase books and e-books through: Amazon   Barnes and Noble Smashwords   iTunes 

Connect with Rebekah through:  
Pinterest: http://www.pinterest.com/rebekahlynbooks/rebekah-lyn