I don't know about you, but I get a little excited when a new writing guide comes along. Today I get to spill the news that The Conflict Thesaurus: A Writer's Guide to Obstacles, Adversaries, and Inner Struggles (Vol. 1) has hit the shelves.
This guide is about that killer ingredient our stories need: Conflict. It shows you exactly how to use conflict to raise tension, create a fresh story premise, and pull readers in. The guide also dives into over 100 conflict scenarios and how each can be endlessly adapted to challenge a character inside and out. Problems, Moral Dilemmas, Ticking Clocks, Obstacles, No-Win Scenarios…this book is plot brainstorming in overdrive!
I'm part of Angela & Becca's Street Team for this release, and we have an important question to ask you:
Can You Survive Danger as Well as Your Favorite Protagonist?
Sure, it's easy for you to use conflict to torture your characters and make them struggle, but what if it's you in the hot seat instead? Will you make good decisions, or bad ones?
It's time to find out by taking the Conflict Challenge! I dare you to become the protagonist in a special story Angela & Becca have created. And heads up, if you survive, you win some pretty cool stuff!
GIVEAWAY ALERT
While you're at Writers Helping Writers taking the Conflict Challenge, make sure to enter The Conflict Thesaurus celebratory giveaway, too. But hurry – it's only on for a few days.
So, take the challenge…if you dare. And don't forget to come back and let me know how you did against Camp Deadwood!
I'm excited to announce that my latest book is now available for purchase! Since it's thankfulness-themed, it would make a great Thanksgiving gift for your guests or hostess, or a meaningful pre-Thanksgiving way to get your heart focused on gratitude leading up to the holiday. Read on to find out more!
Featuring inspirational verses from the Bible, these coloring pages will help you relax, unwind, and enjoy some creative fun while hiding God's Word in your heart! All the passages have a theme of thankfulness, so you'll be encouraged to cultivate gratitude and be reminded of all you have to thank God for as you color.
The verses are printed in colorable word art with decorative borders, blank on the back to make them easier to remove and frame or display, if desired. Each coloring page is accompanied by thought-provoking journal questions that will help you dig into the Scriptures even more as you focus on their meaning and application in your life.
Hide it in Your Heart with Thankfulness is an ideal Scripture memorization aid for Christian schools, homeschool programs, Sunday schools, or your own personal use. Children and adults will enjoy learning, practicing, and meditating on these artistically presented verses from the New International Version Bible. Order your copy today and start hiding God's Word in your heart with thankfulness!
Find the book at your own local Amazon store at the links below!
Amazon U.S.: https://www.amazon.com/dp/B09HFTQHX8
Amazon Canada: https://www.amazon.ca/dp/B09HFTQHX8
Amazon UK: https://www.amazon.co.uk/dp/B09HFTQHX8
Amazon Germany: https://www.amazon.de/dp/B09HFTQHX8
Amazon France: https://www.amazon.fr/dp/B09HFTQHX8
Amazon Spain: https://www.amazon.es/dp/B09HFTQHX8
Amazon Italy: https://www.amazon.it/dp/B09HFTQHX8
Amazon Japan: https://www.amazon.co.jp/dp/B09HFTQHX8
Amazon Australia: https://www.amazon.com.au/dp/B09HFTQHX8
A Note from the Author:
Witches Tales came to be because of six little girls with very interesting fears or challenges that I hoped to quench in a cute yet poignant way. Halloween presented the opportunity since they all love this holiday and were excited to be witches.
Since Spanish is my language, I decided to make my children's books bilingual and enter that market.
In Witches Tales/Cuentos de Brujitas you will find:
A little witch who loves camping, reading her letters and colors. Therefore that tale has all of them included; in addition, you read it in a spooooooky voice.
A detective witch who has to find all the things stolen from her family and friends, while learning a good lesson about respecting others property.
A witch that is afraid of too many things to be healthy.
Another that loves to dance and has to figure how to include others in her performance. 
The witch that doesn't like to do chores and finds a way of doing them with a bit of magic as three new friends come to help.
The last witch shows us that when we get scared, we may put ourselves in danger by staying alone. And that we can solve problems together, and being safe is a better way.
Now, you have all these tales in one colorful book: Witches Tales/Cuentos de Brujitas by A. C. Dye
Click here to purchase your copy.
Author Biography
A. C. Dye is a pen name of the award-winning young adult author Anna del C. Dye. As Anna del C., she has published over twenty books, mostly young adult fantasy and medieval romance, all in English.
Her children's books, written as A. C. Dye, are all bilingual. She is fluent in English and Spanish.
She lives in Taylorsville, Utah, U.S.A., but is originally from Chile, S.A.
You may connect with her and her works at https://www.annadelc.com 
Eleven-year-old Drake Bailey is an analytical thinker and the genius of the Timekeeper crew. However, no logic or mathematical acumen can change the color of his skin, or prepare him for this third Timekeeper mission in antebellum Georgia. To survive, Drake must learn to play the role of a plantation slave and when confronted with the brutality, hatred, and racism of the deep south, he'll have to strategically keep one move ahead of his sadistic captors to ensure his lineage continues.
In a dark world of Voodoo, zombies, and ritualistic sacrifice, the Timekeepers must ensure a royal bloodline survives. Can Drake remove both literal and figurative chains to save both himself and a devout slave girl from a terrible fate? If he can't summon the necessary courage, humanity could stand to lose one of its greatest leaders.
Excerpt:
Drake read over their Timekeeper mission again. Blood. Deep south. Race. Broken. Soul. Red flags waved through his mind like a category five hurricane. He'd seen one too many movies and documentaries to know 1855 was not a great time in history for people with his skin color. Drake shut the Timekeepers' log, and shook his head vehemently. "There's no way in hell I'm gonna go on this mission, Lilith!"
Lilith wrinkled her long, narrow nose. "I understand why you have these fearful feelings, Drake, but I do not choose where you go into the past. Belial is the one who holds that power, and seeks to disrupt history whenever he sees a chance."
"May I see the Timekeepers' log, Drake?" the Prof asked.
"Sure, Prof, but I'm still not going," Drake replied, passing the log over.
"Can he do that?" Ravi asked, glancing at Treena.
"I don't think so. It's like signing a contract for a movie. You're committed to finishing the film or you face the studio lawyers. Case closed, gavel down."
"Lilith isn't a judge." Ravi looked at Lilith. "Right?"
"No, Ravi, I am not your judge, but what Treena said rings true. You were all chosen as Timekeepers for a reason, and are bound by this covenant," Lilith replied, unclasping her hands. "That is all I can offer you."
"Fine. I'll just remove my Babel necklace," Drake said, digging under his shirt. "Problem solved."
"Drake, why are you freaking out like this?" Jordan asked, helping Amanda to her feet. "It can't be as bad as fighting the Nazis in our second mission."
"Yeah, or being interrogated in the Gestapo Headquarters by Belial's creepy crony Marcus Crowley," Ravi added.
"Why don't you ask Amanda why she puked? It wasn't because she had warm and fuzzy feelings about this mission," Drake argued.
Melody wiped Amanda's chin. "Do you feel well enough to speak?"
"I…I think so."
Professor Lucas whistled. "Now I see why Amanda was sick to her stomach. Using the words deep south and the date as a clue, this mission puts us in the antebellum era, six years before the American Civil War began. This period was filled with so much hate, racism, turmoil, and political upheaval, I'm willing to bet these emotions went right through her."
"If Uncle John is right, why would Belial want to change anything back then?" Jordan asked, frowning. "That slithering douche-bag lives for human suffering during those dark times in history."
"Exactly." Drake removed his Babel necklace. "So why tempt fate?"
"N-no, Drake, you have to come." Amanda reached for his hand, and squeezed it. "Trust me, you're an important part of this mission."
"Huh? How?"
"It's hard to explain. I just know you have to be there."
The book is available at the following links:
AMAZON.COM: https://www.amazon.com/Last-Timekeepers-Noble-Slave-ebook/dp/B09CZ1CQNX/
AMAZON.CA: https://www.amazon.ca/Last-Timekeepers-Noble-Slave-ebook/dp/B09CZ1CQNX/
MIRROR WORLD PUBLISHING:
Paperback: https://mirror-world-publishing.myshopify.com/products/the-last-timekeepers-and-the-noble-slave-paperback
Ebook: https://mirror-world-publishing.myshopify.com/products/the-last-timekeepers-and-the-noble-slave-ebook
KOBO: https://www.kobo.com/ca/en/ebook/the-last-timekeepers-and-the-noble-slave
BARNES & NOBLE: https://www.barnesandnoble.com/w/the-last-timekeepers-and-the-noble-slave-sharon-ledwith/1140033348?ean=9781987976823
APPLE BOOKS: https://books.apple.com/ca/book/the-last-timekeepers-and-the-noble-slave/id1581757739
About the Author:
Sharon Ledwith is the author of the middle-grade/young adult time travel adventure series, THE LAST TIMEKEEPERS, and the award-winning teen psychic mystery series, MYSTERIOUS TALES FROM FAIRY FALLS. When not writing, researching, or revising, she enjoys reading, exercising, anything arcane, and an occasional dram of scotch. Sharon lives a serene, yet busy life in a southern tourist region of Ontario, Canada, with her spoiled hubby, and a moody calico cat.
Learn more about Sharon Ledwith on her WEBSITE and BLOG. Look up her AMAZON AUTHOR page for a list of current books. Stay connected on FACEBOOK, TWITTER, PINTEREST, LINKEDIN, INSTAGRAM, and GOODREADS.
Welcome to Realm Explorers! In this weekly series, we visit a variety of unique worlds created by talented science fiction and fantasy authors. Enjoy your travels! And don't forget to read to the bottom of the post to find out more about each author and see how to purchase the featured book.
Author's name: Erudessa Gentian
Title of book and/or series: Power in Time, Epoch 1 of Kynaston Royal Saga
Brief summary of the story:
Twenty-year-old Larkspur is trapped 2,000 years in the future, but that's not her biggest problem. Bestowed with strange superpowers, she's adopted by one of the most powerful families known to the four inhabited planets. As heir, she's responsible for an entire kingdom she didn't know existed a few days ago. But when tragic surprises emerge from her past, Lark must decide where her loyalties will lie—past, or future?
Brief description of the world or location you created for this story:
Evren is the third successfully terraformed planet. It is a little smaller than Earth, has two moons, and four extra months in a year. Jewel and metallic tones are the most common colors found there.
If we were to visit Evren as tourists, what would you recommend that we see or do there?
Check out some of their nature reserves. The preservation of wildlife and natural resources is important there.
Is there a distinct or unusual type of food or meal that we might be served in Evren?
Evren was mostly settled by people from modern-day Europe and New Zealand, and some of their traditional foods came along. Their fruit is known for its succulence.
What types of weaponry or fighting styles are common in Evren?
Laser weapons are common, especially guns.
What types of vehicles, animals, technology, etc. are used to travel in or to Evren?
Sky Trams are used for long travel, hovercraft is used for daily travel. Holograms are used in a lot of technology, including computers, maps, and text.
Cats as a species didn't take well to the terraformation process, so all breeds are considered endangered and protected.
What types of plants, animals, or sentient races might we encounter in Evren that we don't see on Earth?
There are no alien races in Kynaston Royal Saga, but plants do differ from planet to planet. Mostly in their colors, but some plants evolved differently depending on the chemical makeup of the planet.
What role, if any, does magic or the supernatural play in the lives of people in Evren? If there is magic, please give some examples of what it involves or how it's used.
Magic is known as Arcane Science, but it's not studied deeply. Some people are born with the ability to manipulate an element (air, electricity, fire, water, etc.), but it's considered useless. It takes too much energy to actually do, you'd die before it would be useful.
In Kyanston Royal Saga, a select few are given bio-bots, which help enhance the gift.
Are the days of the week and months of the year the same in Evren as on Earth? What holidays or special events are celebrated regularly there?
Weekdays are the same, but Evren has four extra months than Earth (one for each season).
Christmas is still a traditional holiday, and Evren's Foundation Month is celebrated every two years.
What is the political or government structure in Evren? Who is in charge there at the moment, and what kind of leader is he/she?
It depends on the country. The main story takes place in the Kingdom of Lothar, the first country on Evren, and still the largest/most powerful.
Avi Kynaston is the current monarch, well loved by the people. He inherited a kingdom on the brink of collapse, and led them back to prosperity. He just adopted Larkspur as his daughter and heir.
Author Autobiography:
Erudessa Gentian is a firm believer that clean entertainment can be powerful. Inspired by her love of cultures and learning, she produces dynamic art to spark imagination and touch souls.
Erudessa writes in multiple genres, but specializes in fantasy and historical fiction. She posts about lifestyle, travel and so much more on her blog.
Where, and in what formats, can we purchase your book(s)? Please include links.
All of Erudessa's work can be found on her website.
Power in Time can be found on most major ebook retailers. Paperbacks are currently available on Amazon and her website.
Where can readers connect with you online?
You can find all of Erudessa's social links and newsletter signup on her Contact Page.
I hope you all enjoyed the trip to Evren!  Questions about the world or the book?  Ask them in the comments and the author will get back to you!  

Click here to read other posts in the Realm Explorers series.

Please join us again next Monday for a trip to another world in next week's edition of Realm Explorers!

Are you an author of a sci-fi or fantasy novel that takes place in another world? Click here to find out about having it featured on Realm Explorers! -Annie Douglass Lima

Young Adult, Science Fiction, Urban Fantasy
Date Published: April 13, 2021
Publisher: Acorn Publishing
Orion City has been on lockdown for ten years. Courtney Spencer, a disillusioned barista doomed to live a "normal" life in a quarantined fishbowl, is certain she'll never see over the Wall again. Until one rainy evening, Courtney unintentionally befriends W, an eccentric customer who leaves a switchblade in the tip jar. The unexpected acquaintance soon opens the door to a frightening string of questions that flips everything she knows upside down. Stumbling into a world of secrets, lies, and disturbing truths, Courtney grapples with a burning temptation to look again at the Wall. Surrounded by citizens trained to ignore its looming shadow, Courtney no longer can. Intrigued and terrified to expand her world, Courtney finds herself toeing a knife's edge between the law and justice, learning quickly that the two are not always compatible. She wants to cling to her morals. She also wants to stay alive. But most of all, she wants to see a certain customer again, despite everything in her whispering W is dangerous. In a gritty urban clash of hope and fear, passion and survival, The Walls of Orion explores the edges of light, dark, and the gray in between.
About the Author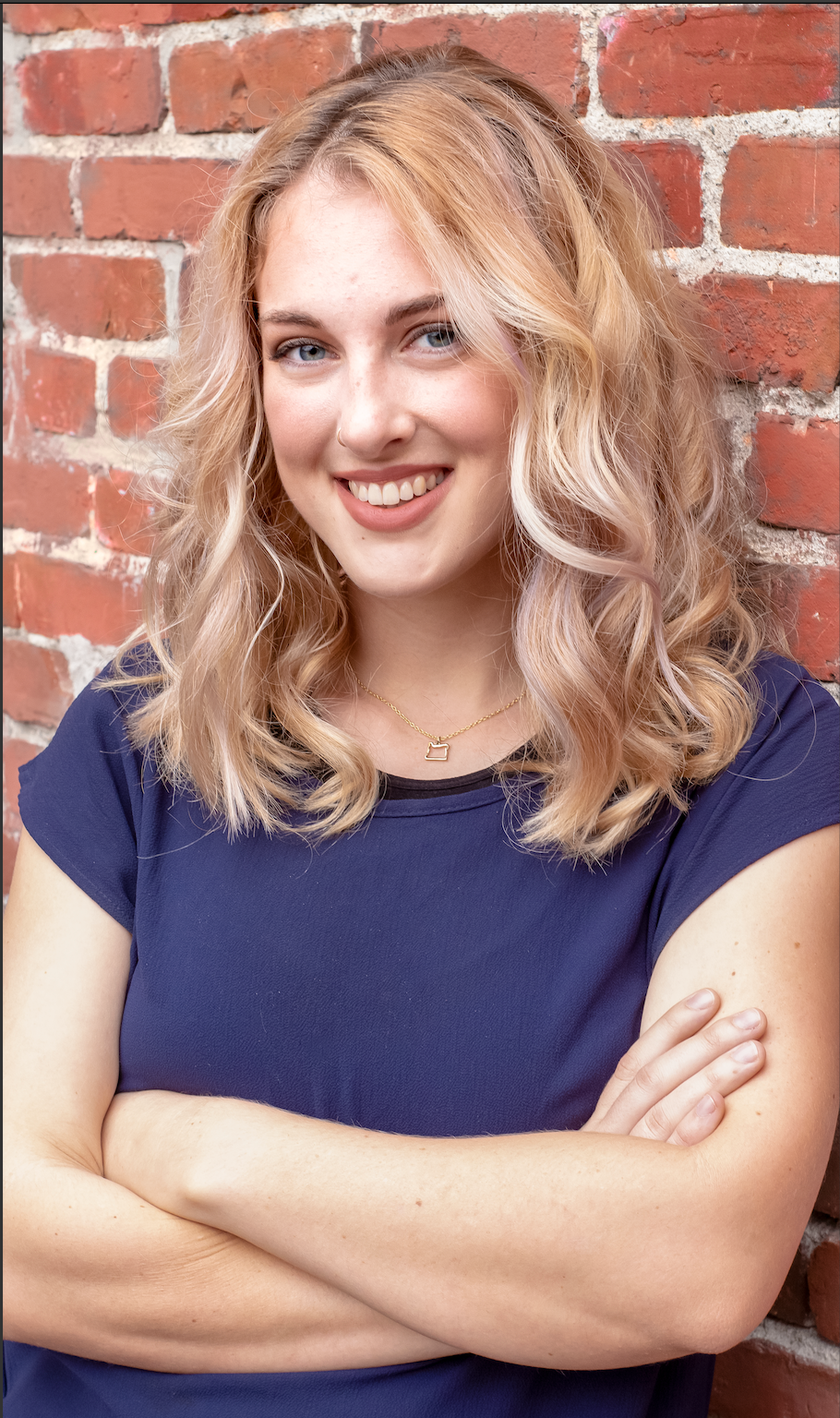 A world-romper from the Pacific Northwest who quite enjoys the label "crazy," T.D. Fox supplements a hyperactive imagination with real life shenanigans to add pizzazz to her storytelling endeavors.
Armed with a bachelor's degree in Intercultural Studies, her favorite stories to write usually involve a clash of worldviews, an unflinching reevaluation of one's own internal compass, and an embrace of the compelling unease that arises when vastly different worlds collide.
When not recklessly exploring inner-city alleyways during midnight thunderstorms in the States, she can be found exploring rainforests without enough bug spray somewhere along the equator.
Contact Links
Facebook: T.D. Fox
Twitter: @TDFoxAuthor
Instagram: @TDFoxAuthor
Purchase Links
a Rafflecopter giveaway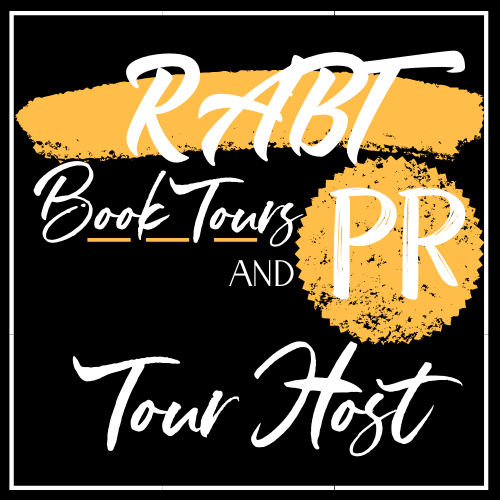 A Guest Post by Kim McMahill
I am often asked how I come up with ideas for my books. Inspiration comes from many different places including dreams, travel, childhood experience grossly exaggerated, and current issues. Most of my novels have been stand-alone adventure and romantic suspense novels, but my most recent project has been the Risky Research Series. The idea for this suspense series began to emerge as I started getting to an age when keeping fit and healthy started taking a little more effort and a lot more research.
Nearly every woman I know, myself included, educates herself about nutrition, exercise, fitness, diets, etc. in order to live a healthier life, manage a medical issue, or to lose weight. I've found there is so much information out there that it is difficult to sort out fact from fiction. The diet and nutrition industries are worth billions, which makes it even more challenging to ascertain who or what to trust. With so much on the line for something that impacts nearly everyone, there is plenty of opportunity for corruption and crime to infiltrate the industry, making it perfect fodder for a crime series.
So, about six years ago I started the series with A Dose of Danger, which deals with a potential miracle diet pill and those who will stop at nothing to keep it off the market. Book 2, A Taste of Tragedy, revolves around a deadly sweetener, and book 3, A Foundation of Fear, explores the role of lobbyists and politics in the industry. The latest novel in the series, A Measure of Madness, was released on April 9, 2021. There are also two short-story prequels available for free download, A Formidable Foe and Midnight in Montana. Here's a bit more on the latest novel, A Measure of Madness.
Blurb
FBI agent Devyn Nash's pursuit of a deadly organization heats up in this fourth installment of the Risky Research series.

The FBI locates the mastermind behind Coterie, but attempts to bring him in result in a shootout that sends Coterie's members scrambling for cover. When Devyn's partner is left fighting for his life in a Puerto Rican hospital, she becomes more determined than ever to bring them to justice.

Devyn's decision to ignore her orders and pursue the head of Coterie to Brazil puts her job and her relationship with Sheriff Gage Harris in jeopardy, but she is unwilling to allow those responsible for so much death to live out their lives in paradise.
Excerpt
"Let me guess, J.R. fast-tracked it to Brazil?"
"Very perceptive, Melonis."
"Just a lucky guess since he apparently has a fondness for Brazilian bamboo, and it just so happens to be a country without an extradition agreement with the U.S.," Nick said.
A nurse entered and interrupted their conversation. She checked Nick's vitals and made notes on his chart. "Don't visit too long, he needs his rest," the nurse stated as she hustled out of the room.
"I'll leave you two alone. I hate always being the third wheel. Just do as Morgan says and take care of yourself. The doctors think you'll make a speedy recover if you don't do anything reckless or stupid."
"Speaking of reckless and stupid, have a nice flight to Rio and try not to get killed," Nick rasped.
Devyn shot Morgan a scathing look.
"What? How could I have said anything, you've been with me the whole time? He just knows you too well."
She shook her head and took Morgan in her arms. "Take care of him, and take care of yourself." Devyn hugged her friend tight, hoping it wasn't for the last time.
To learn more about the Risky Research Series or to Download your copy of any of Kim's novels, visit:
Amazon: https://www.amazon.com/s?k=Kim+McMahill&i=digital-text&ref=nb_sb_noss_2
Barnes and Noble: https://www.barnesandnoble.com/s/Kim+McMahill?_requestid=1007373
Kobo: https://www.kobo.com/us/en/search?query=Kim+McMahill
More About the Author
Kim McMahill grew up in Wyoming which is where she developed her sense of adventure and love of the outdoors. She started out writing non-fiction, but her passion for exotic world travel, outrageous adventures, stories of survival, and happily-ever-after endings soon drew her into a world of romantic suspense and adventure fiction. Along with writing novels Kim has also published over eighty travel and geographic articles, and contributed to a travel story anthology. She has had the opportunity to live in Hawaii, New Mexico, South Dakota, Iowa, and Colorado, but has finally returned home to Wyoming. When not writing she enjoys gardening, traveling, hiking, puzzles, playing games, and spending time with family.
To connect with Kim, check out:
Blog: http://www.kimmcmahill.blogspot.com
Twitter: https://twitter.com/kimmcmahill
Facebook Page: https://www.facebook.com/KimMcMahillAuthor/
Instagram: https://www.instagram.com/kimmcmahill/
Goodreads author page: http://www.goodreads.com/author/show/849945.Kim_McMahill
Amazon Author Page: https://www.amazon.com/Kim-McMahill/e/B007IK0EJW/
Bookbub: https://www.bookbub.com/profile/kim-mcmahill
Falling Into Magic
Destiny Falls Mystery & Magic Series Book 1
by Elizabeth Pantley
Genre: Magical Cozy Mystery
When Hayden was a child, she lost her cat. Adults told her the cat ran away, but she knew the truth. The mirror had taken her.
She knew because the mirror had given her a glimpse of an alternate world and had nearly pulled her in, so she was certain the cat had suffered that fate.
Twenty years later Hayden discovers the secret of the mirror when she is thrust into it. She learns of a world she never knew existed, and a family she never knew she had.
But danger brought her here, and it followed her. Now, Hayden is on a mission to remove the threat, so that she can begin her magical, meaningful new life in this enchanted world.
"A magical, delightful tale that held my attention with a quirky cast of characters, engaging dialogue, a pleasantly appealing universe, and an intriguing plotline that I could not put down. I can't wait to see where we go with Hayden's next adventure." — Dru Ann, MWA Raven Award winner, www.drusbookmusing.com
"
What a captivating read! . . . I couldn't put it down. A great story, full of interesting people and places to get to know, with surprises around every corner." — Linda C. Goodreads reviewer
"
The world-building and magic system is fascinating. Destiny Falls is a wondrous place that seems to cater to citizens' wants and needs. I love that it is almost a character in its own right, and I was intrigued by the constantly changing world. Vivid imagery paints a clear picture of Destiny falls and its inhabitants. Falling into Magic is a dynamic introduction to the Destiny Falls Mystery & Magic series." — Julie Petitbon www.onebookmore.com/
"
Finally! An author who manages to pin the Disney/Hallmark magic down on paper."
– Mareli & Elza, https://elzareads.blogspot.com/
"
This is no run-of-the-mill paranormal book! Unique ideas. You will be glad this is a series!"
– Susan G., Amazon reviewer
**Only .99 cents until Mar 22nd!!**
The Disappearance of Emily
Destiny Falls Mystery & Magic Series Book 2
Hayden fell through a mirror and was thrust into an alternate, magical place. Destiny Falls is not on any map and is home to a family she never knew she had. The town is enchanted and charming, but something is amiss. She gets an ominous warning, and the promise of a package. Once it arrives, someone turns up dead and there are too many other suspicious episodes to call them coincidences. All signs point to the mysterious disappearance of her mother – way back when Hayden was just two days old. Can she identify and eliminate the threat before another person in her life is stolen away?
"A magical, delightful tale that held my attention." ~ Dru Ann, Dru's Book Musings
"A captivating read! I couldn't put it down." ~ Linda C., Goodreads
"I felt transported to Destiny Falls…now that I've finished, I miss it already." ~ Julie, One Book More
"A mix of unique characters, romance, mystery and magic." ~ Charlene Q. Goodreads
"I had a fun time reading this one." ~ Lola, Lola's Reviews
"Just when I thought I knew who the killer was, BAM, a twist." ~ Leslie, Storeybook Reviews
"Really stretched my imagination!" ~ Betty, Reading is my Passion
"Funny, fluffy, far-fetched, and fabulous!" ~ Elza Reads
"Generously seasoned with sass, class, and a dose of spunk. Delish!" ~ Pages & Paws
Elizabeth Pantley is the international bestselling author of The No-Cry Sleep Solution and twelve other books for parents, published in over twenty languages. The Disappearance of Emily is the second book in her well-received fiction series. Elizabeth lives in the Pacific Northwest and is the mother of four and Nana to one. Visit her at nocrysolution.com
Follow the tour
HERE
for special content and a giveaway!
Kitty Swag Pack (US only) ,
$10 Amazon + ebook of Falling Into Magic (WW)
– 1 winner each!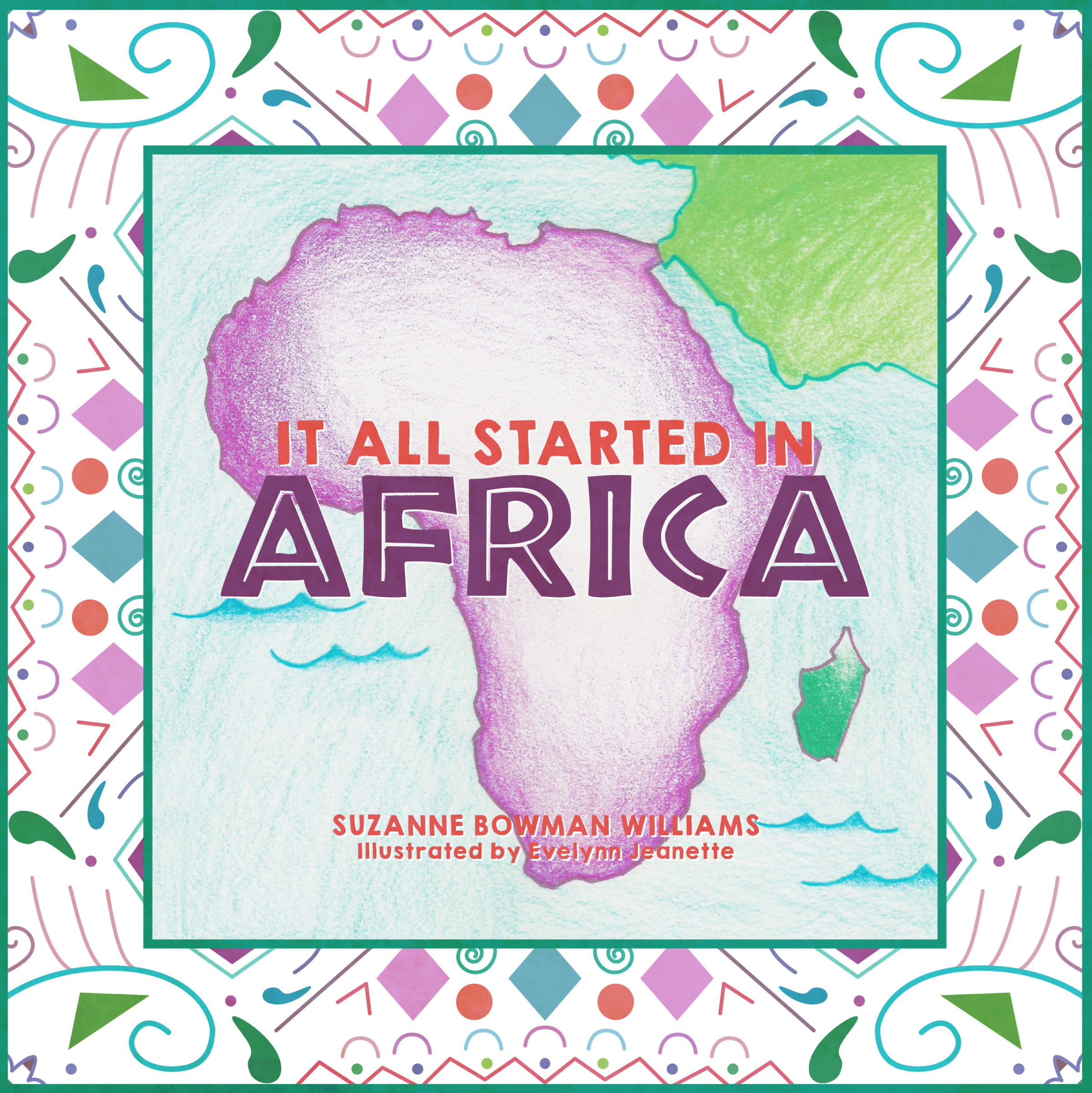 Children's African History, Children's Books, Multicultural Biographies
Date Published: Jan 5, 2021
Publisher: Lucid Books Publishing
History comes to amazing life in this narrative based on true events. It All Started in Africa takes young children on a journey through generations of African Americans over the course of history. Children will gain a better understanding of African American history as they engage with discussion questions. They will be challenged to make life better for themselves and for the people around them. Join in with exciting, interactive experience all the way to its surprising finale!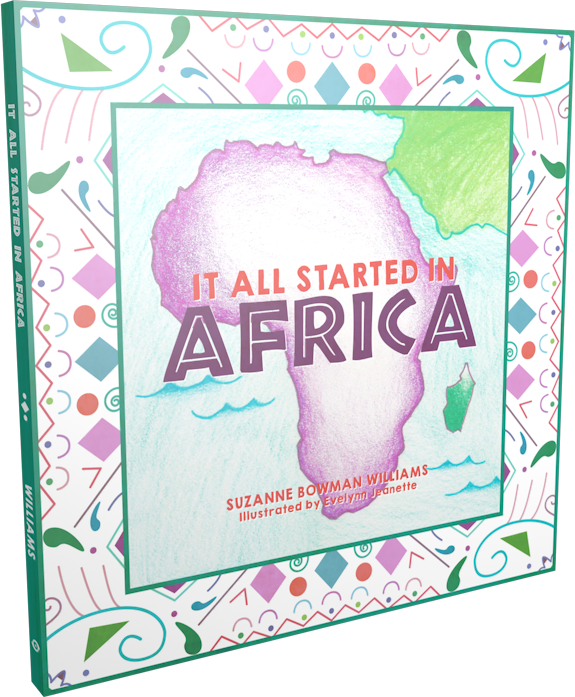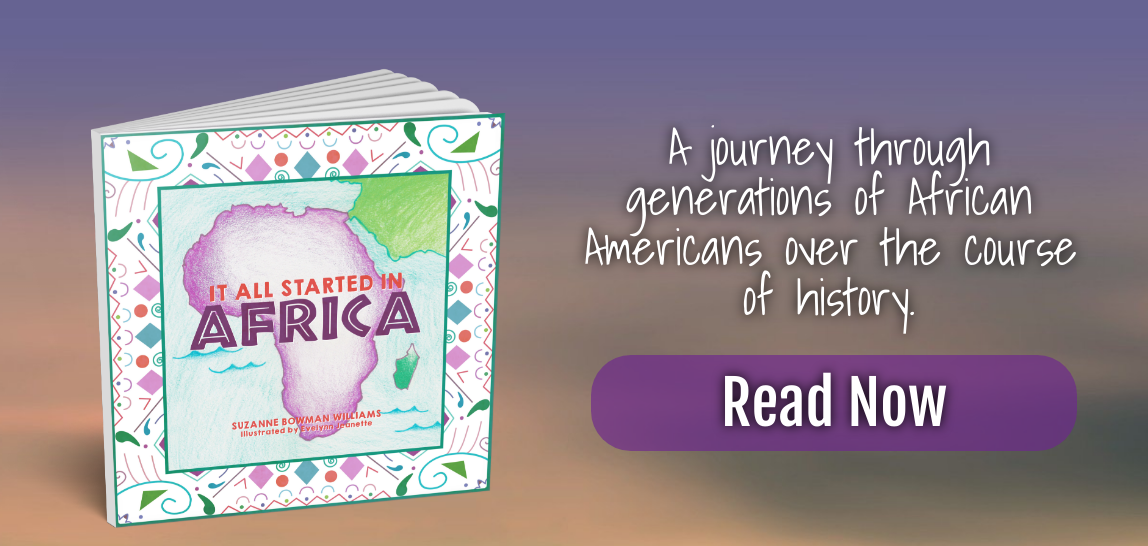 About the Author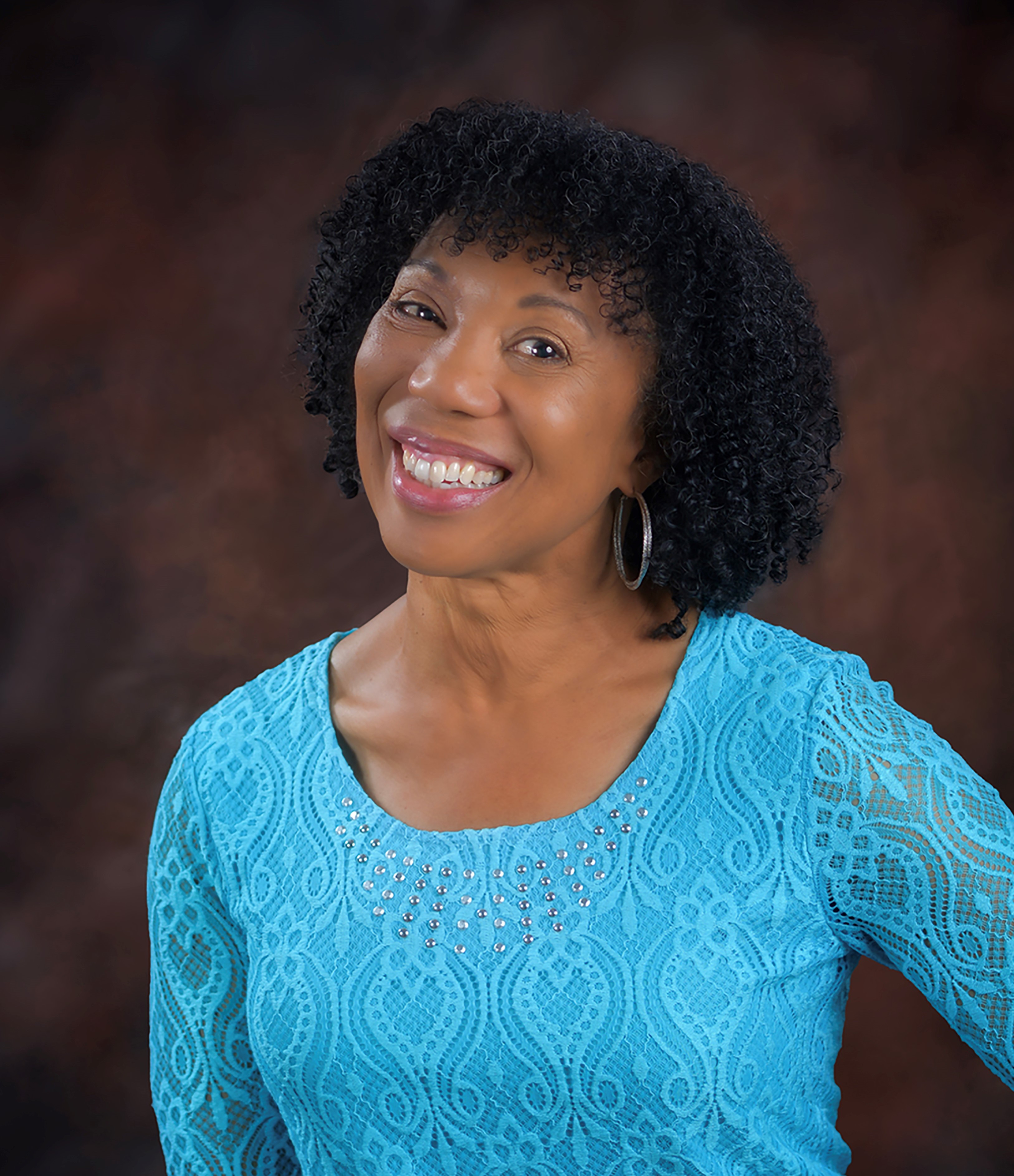 Suzanne Bowman Williams enjoyed teaching elementary school students in Southern California for over 30 years. There she first presented It All Started in Africa. With a bachelor's degree in literature and a master's in counseling/psychology, she is passionate about encouraging, educating, and motivating children through the telling of stories. Suzanne currently lives in Central Arizona with her husband. This is her first children's book.
Purchase Links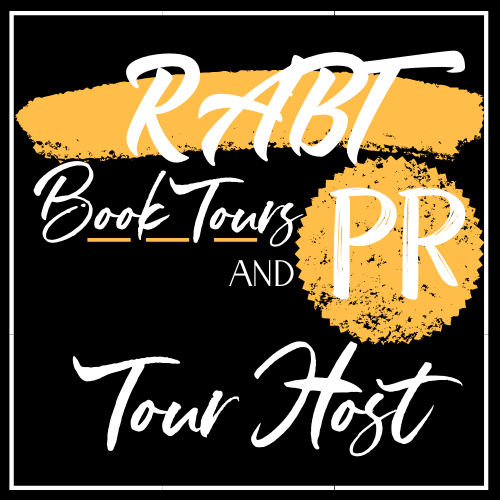 Erven Kimble has been happily married to Jacquelyn Kimble for over thirty-five years and is the father of five sons and one daughter and has seven grandchildren. They are both natives of Houston, Texas. Erven attended the University of Houston, where he majored in Electrical Engineering. He later received his Bachelor of Arts in Theology from Logos Christian College and Graduate School.
Erven worked in cooperate sales and marketing for over 25 years with major computer companies; he served as a community leader and activist for over 30 years. Erven accepted a huge pay cut when he left his corporate management position to answer the call of God on his life to serve as Senior Pastor at a church in the northeast suburbs of Atlanta for over 24 years, where he grew to love, nurture and help hundreds of congregates grow spiritually, emotionally, and relationally.
Erven is the founder and CEO of Life ANEW Global Ministries, which offers virtual training that helps believers learn how to live out the New Life found 'in Christ'. He is an accomplished teacher, community leader and activist, a licensed Christian Counselor, Racial Unity Coach entrepreneur and now an author. In addition, he is an international business developer, helping Christian entrepreneurs gain success in the Health & Wellness industry.
Pastor Kimble also worked as a Development Director with a nonprofit ministry; a career move which eventually led him to attend a life-changing weekend Men's Retreat. There, his encounter with the Holy Spirit led him to understand the racial bias that exists in the hearts of so many believers in the contemporary Church. Now, God has challenged him and placed him in a position to address the generational racial divide that exists within the Christian community.
Erven Kimble authored the book and founded a movement called "Giving Voice to Truth… God's Heart For Racial Unity". This represents many of Pastor Kimble's personal experiences navigating the racial divide. It highlights many years of social and economic differences in the black community and the Voice of God calling for believers to genuinely demonstrate the love of Christ and the justice of God in obedience to His Word.
The practical applications of many of the principles discussed in this book are explored in the series of virtual meetings called "Truth Talks About Race!". The purpose of these interactive sessions is to help make the 'information' create a 'transformation' within the individuals that participate.
To get more information and to register, go to: https://www.givingvoicetotruth.com/register.
When it comes to how our culture should address the issue of Race in America, the voice of God is deafeningly silent. Public dialogue continues without much or decisive input from the contemporary Christian community. In fact, the Body of Jesus Christ in America as a whole, is pretty much divided along racial lines. This is clearly reflected in the split within the contemporary church along political party lines and social policies. To be sure, there is preaching about how we ought to, or how we want to treat one another as children of God. Each voice declares that they are on the right side of history or the right side of the political spectrum; but what about being on the right side of God?
Get to Know the Author!
How did you come up with the ideas for this book?
To be honest, I didn't start out with the idea of writing a book. The book's content results from me being divinely guided to do a very close personal examination of my own biases and things that were in my past that the Lord was really prompting me to deal with. For me, it was a journey of chronicle devotional responses — some critical truths that I believe God was revealing to me that reflected His heart toward the condition of many believers in the Christian community who had not really dealt with the issue of race and racism on a personal level. I think we tend to compartmentalize our lives and separate our spiritual and Christian beliefs from our political, social, and civic activities to the point that we really lose perspective and think that our personal behavior is okay. As I continued to process all the information and research at my disposal, I began to share them with other people who encouraged me to put all that I was being led to understand about the issue of race and racism, as relating to the Christian worldview, in a book. So, my motivation came from those that encouraged me that the content of my thoughts needed to be made available to others with similar experiences.
What do you hope your readers will learn/discover from reading this book?
I hope the prospective readers of my book will complete the book and believe that enough was said for them to feel safe and personally examine themselves. The book is not designed to be a condemnation or an indictment against other people's beliefs. Rather, it's to set the stage for an honest reflection, accurate information, emotional strengthening, and self-awareness that enables the reader to come to grips with some hidden or unknown tendencies and biases, then admit them to oneself first. Also, I hope that enough factual, accurate, truthful, and biblical information is provided to prompt a transformation of sorts that would benefit them while engaging in meaningful conversations across the racial divide.
I also host a follow-up to the book called "True Talks About Race". These are a series of virtual interracial Zoom discussions. They are interactive and allow individuals to really express themselves, hear others and get some insight and experience in conversations across the racial divide. These Zoom talks are scheduled and made available on my website: https://www.givingvoicetotruth.com/register
What inspired you to write this book?
The overwhelming need and the obvious turmoil in culture concerning racial division and the decisiveness of this divide played out day in and day out, from one new cycle to the next. It's clear the culture is struggling with the issue of race and racism. We have discussed it for generations in our country and across the globe with no clear answers on how to address it. This is such a deep-rooted social issue, and tragically, the Christian community is deafeningly silent on it. It appears that there is no doubt the contemporary Christian mindset is just as divided as the culture and without clear spiritual input; hence the problem seems to continue on and on. I remember having seen the same thing in the 1960s when the civil rights movement was being birthed. I ultimately learned that the reconstruction era had similar kinds of division and strife, and of course, with the civil war, you had a nation divided. Here we are 150 years later with still the same problem. It seems to me that the emotional and spiritual approach has been overlooked and this book is here to help address that and hopefully have some impacts on how to deal with this problem.
Any advice to give to aspiring writers?
I guess my advice to aspiring writers would be to connect with their passion. To find out what motivates and shapes their personal interest and try to share that with someone. For me, it was an inspiration I didn't even know I had. I didn't start out wanting to be an author. The call and the moment and personal conviction of the moment required that I respond by documenting this issue passionately and in my heart believe it would be helpful and beneficial to others.
What's next for you?
I'm focused on completing the task. I hope to inspire and move more people to engage this issue from the standpoint of facts, historical, emotional or spiritual context and make it visible on a large scale. I believe my faith in the Bible and the supernatural power of Jesus Christ can change individuals and cultures. So, I will be promoting my book and "Truth Talks About Race" via the virtual Zoom talks. I will continue to write content about the subject matter because I did not cover quite a few things in my book, so I will continue in follow-up writing to help people gain enough confidence and be equipped enough to have conversations and build relationships across the racial divide.
What was the most difficult aspect of writing this book?
The most difficult aspect of writing this book was harnessing all my spiritual inspirations and research together in a cohesive and professional way that befits an author. I'm an orator, a public speaker, and a preacher. Writing to speak to a crowd of any size is easy for me because speaking is a hobby to me. However, what is not easy for me is to professionally author a book that conveys a clear discussion on a complex subject throughout different areas of discussion. So, putting it all together, writing the content in a systematic and orderly fashion, and presenting ideas and streams of thought was difficult for me. I admire authors a whole lot more now than I did before I wrote my book.
Did you have to do any special research for your book?
Yes, I did and still do. I find myself doing lots of targeted research. I was immersed in all kinds of writings, articles, Ted talks, sermons, and books —historical and current events. I had to reeducate myself on European Colonialism and the history of Africans in North and South America, as well as in the world. I had to figure out the real truth that is often hidden. I had to look at the biblical history of Africans in the Bible and African civilizations. I investigated the history of the African continent, in the context of world history, and how African civilizations were unjustly and systematically left out of this human races' narrative. Lots of research went into understanding the truth about the African diaspora throughout the whole world.
Why do you write? Is it something you've always done or always wanted to do? Or is it something that you started fairly recently?
I wrote my book because the subject matter of focus was so urgent, and the call or the motivation for me to get engaged in the conversation about race and racial disunity in the Christian community was so compelling. I felt like God had commissioned me to write this vision (this book) and make it a plan. So, for me, it was being obedient to the call. It was being obedient to the instructions to chronicle my thoughts and the passion that God had given me to speak the truth and help others connect with the truth and the facts about race and racism in the heart of individuals, including the Christian community, in such a way that brings about transformation and leads to the development of relationships across the racial divide. This was my first book. I never saw myself as an author or writing a book. I write sermons. I write speeches. I write articles, but I had never seen myself writing a book. However, I feel fortunate because it was absolutely necessary for me to do this.
In five words, describe your book.
Transformative Truth About America's Racism!
Name 3 authors you would love to collaborate with
Tony Evans, Crawford Loriz, Andy Stanley
Among all the books you have read, which has significantly contributed to your writing style?
I cannot really say any books I have read contributed to my writing style. I suppose I never thought of myself as a professional writer.
JUST FOR FUN
Coffee or tea?
I am a coffee drinker myself. I prefer it black with no sugar. But in some cultures, this presents a bit of a problem, as it did when I was in Puerto Rico, where black coffee (without cream) is thought to be demon-possessed.
Lights on / lights off?
I do not require a lot of sleep. So, whether the light or TV is on or off when I'm about to sleep doesn't really matter.
What are three things you never leave home without?
My visa card, some cash, and, sad to say, my cell phone.
Sleep in or get up early?
I tend to go to bed late, like way after midnight, so getting up early is not my thing if I don't have to.
Three celebrity crushes you admire?
I only had one. That was Annette Funicello with The Mickey Mouse mouseketeers in the 50s.