On tour with Pristm Book Tours.
It's the Grand Finale for THE SWEET ROMANCE TOUR:
Rough Edges
By Kimberly Krey
Did you miss any of the sweet EXCLUSIVE CONTENT from this tour? 
If you did, go back and learn more about this book and series now!
Brooke Blogs – Excerpt
     Their eyes met once more, and a shot of heat flooded his chest like a liquid bolt of lightening, forcing his pulse to rush. "I've missed you," he blurted.
     Her eyes widened in response, and Braden wondered if he'd been too bold. He'd hardly meant to speak it. It'd been more of a thought. A longing, really.

Pieces of Whimsy – Braden's Workshop
I thought it might be fun to take a look at Braden's workshop, or at least the way I picture it…
(Photo Details ID 11628233 © Gleb Semenov | Dreamstime.com http://www.dreamstime.com/stock-photos-workplace-carpenter-image11628233)
Beck Valley Books – The Second Chances Series
Now for a peek into the rest of the Second Chances Series:
Paperbook & ebook, 322 Pages
January 23rd 2015

Rough Edges starts off my newest series, Second Chances – a companion to the Sweet Montana Bride series. Featuring some of the characters you know and love, this series will give Allie, Logan, and a new character, Bree, (you'll meet her in Allie's story) a second chance at romance. If you haven't read the Sweet Montana Bride series, no worries. This series, as well as each book within, will stand alone just fine. Now for a bit about the book.
Divorced mother, Allie Emerson, never imagined she'd be raising two teenage girls on her own. Between parenting and paying the bills, she hasn't even thought about meeting a man. That changes once she hears local carpenter, Braden Fox, is in need of a secretary. Back in high school, Allie had done all she could to deny the sparks burning between her and Braden; but would the chemistry still be there after all this time?
Braden has heard all about what Terrance did to Allie and the girls. He's been planning to stop by and see how she's getting along, but Allie beats him to it by showing up at his shop in search of a job. Her unexpected visit reignites the old flame Braden used to torch for her; trouble is, old feelings of resentment return as well. Allie did choose Terrance over him, after all. And as much as Braden wants Allie in his life, he's not sure he can open his heart to her again.
With a second chance at romance, will the bumps in their relationship be too much to get over, or will this carpenter learn to smooth out the past?
Allie Emerson gets her happy ending at last in my new release, Rough Edges, available now on Amazon and Barnes and Noble.
About Kimberly Krey
Writing Romance That's Clean Without Losing the Steam!
I'm a reader of good, clean romance, a lover of family time and Diet Coke, and the ultimate hater of laundry.
I'm not patient enough to enjoy yoga, or tall enough to be great at basketball, but I do love to run – anywhere but on a treadmill. I love the sound of a rainstorm when I have no place to go, the feel of Soft Lips chap Stick on my lips, and the first peek of blue water as we round the mountains toward our favorite getaway in Bear Lake.
Tour Giveaway
To celebrate the release of Rough Edges, the author is giving away a $10 Amazon gift card to one winner, and a paperback of Rough Edges to another. Good luck, all!


a Rafflecopter giveaway
A themed book tour through Prism Book Tours.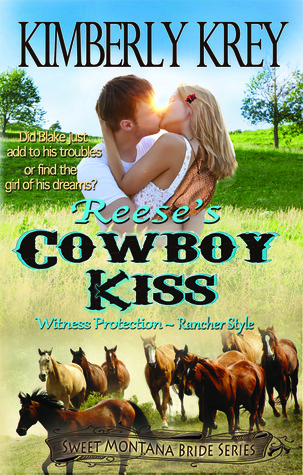 Reese's Cowboy Kiss
(Sweet Montana Bride #1)
by Kimberly Krey
Adult Romance
Paperback, 307 Pages
May 13th 2014 by Candle House Publishing
Texan pageant winner, Reese Taylor, has a former classmate who wants her dead. Now she must leave her friends and family to enter a protection program on Emerson Ranch. A group of good-looking cowboys awaits her, but Reese has her eye on Blake Emerson, the one man too busy with the ranch to give her a chance.
Blake Emerson has no time to go lookin' for love. He's got a ranch to run, positions to fill, and an ache in his heart from love gone wrong. So when he agrees to harbor a witness to help on the ranch, Blake assumes his first two problems are solved. But he never dreamed his new guest would be a woman. One he was destined to lose his heart to.
With sparks burning hot and danger around the bend, one question lingers in his mind: Has he only added to his list of troubles, or has Blake just found the woman of his dreams?
*While this book is considered clean romance, it contains passionate kissing and a few mild curse words.*


Other Books in the Sweet Montana Bride Series:
About Kimberly Krey
I'm a writer of contemporary clean romance, a lover of home, family, & friends, & the ultimate hater of laundry.
A few of my favorite things: Diet Coke, Cafe Rio, and novels by Marcia Lynn McClure.
I do not go anywhere without: SoftLips Chapstick and Altoids Smalls.
~ Let's Talk Brisket – Reese's Recipe ~
Reese's Cowboy Kiss Tour and $100 Giveaway with
In the Sweet Montana Bride Series, the Emersons like to welcome newcomers with a nice, big meal. So when Reese came with a family recipe of her own, they were thrilled to serve up the savory beef brisket. In the book I refer to it as Texan BBQ, but I always had this delicious dish in mind. It is one of my favorites, and definitely worth trying at home.
1 large beef brisket
(plan on about one pound (uncooked) per person. This will result in approx. ½ pound portion sizes. *Don't be alarmed to see it marbled with a good amount of fat. That is what makes it so tender.
1 small bottle of liquid smoke (hickory is my favorite)
Lay several long sheets (about 3 ½-4 feet each) of aluminum foil on counter in a criss-cross pattern, sort of like you're creating a large foil snowflake.
Place raw (unwrapped) brisket in center and pierce several times with paring knife on both sides.
Next, generously pour liquid smoke over top and proceed to rub it into the meat. Repeat this on both sides as well. It will drip off and pool onto the foil, which is fine. That's partially what the layers are for.
Once that's done, sprinkle garlic salt over the entire thing and begin to wrap, flipping it over each time you seal up one layer. But first, notice which side is most fatty, and keep track – you'll want that on top. Wrap layer by layer, until you're down to the last one, again, assuring the fatty side is on top, and place it in a crockpot on low for approx. 8-10 hours depending on size. (Sometimes it requires a little push along the edges, or just a bit of time to reduce in size before the lid fits.)

 
When done, peel away foil layers and trim off the fat. The brisket can now be sliced, but it will most likely be tender enough to simply shred away pieces with a fork and set onto a serving plate, or back into heated crockpot.
Serve this with warmed Famous Dave's Original BBQ sauce. Sides that go well with this dish are: steak fries, BBQ beans, home made mac & cheese, fresh corn on the cob, Texas Toast, and or coleslaw.
Reese's Cowboy Kiss is
available now on kindle
for just $3.99.
Paperback
is available too.

– $100 Amazon Gift Card
– Open Internationally
– Ends August 10th
a Rafflecopter giveaway