A Young Adult Romance Novel by Krysten Lindsay Hager
She's the girl next door and he's rich, popular, and from a famous political family. Brendon's the guy in high school everyone wants to date, and sparks fly when the two are paired together in class.
Emme feels out of her comfort zone in Brendon's world and it doesn't help that his picture-perfect ex seems determined to get back into his life, along with every other girl who wants to be the future Mrs. Agretti. Emme is already uneasy due to the fact her last boyfriend dumped her and her whole world is off-kilter with her grandmother's health issues and her grandfather's memory loss. Life suddenly seems easier pushing Brendon away and relying on horoscopes to guide her. Emme soon starts to realize she needs to focus less on the stars and more on her senses. Can Emme get over her insecurities and grief and make her relationship work? Life sure is complicated when you're dating the it guy.
A YA book with romance, a message of self-love and acceptance, and a sweet sense of family.
Includes new epilogue!
Purchase:
Amazon US: https://www.amazon.com/gp/product/B09Y2RFRM7
Amazon UK: https://www.amazon.co.uk/Dating-Guy-Krysten-Lindsay-Hager-ebook/dp/B09Y2RFRM7
Why I write by Krysten:
I write novels about friendships, crushes, hope, love, dealing with self-doubt, and appreciating what makes you unique.
​My books have always been about helping ​readers feel less alone in what they're dealing with and giving hope, comfort, and a happily ever after.
The world always makes us feel like we have to conform to fit in and who we are isn't enough and my goal is to make my readers feel that what makes you different is what makes you special. I wasted too many years of my life trying to be who the world told me I should be and I want to stop others from having to go through that.
I write the books I wanted to read growing up. I write for the girl in her room who has had a difficult time with friends and frenemies and not knowing whom to trust and may not be comfortable with who she is yet.
Find Krysten here:
Website: https://www.krystenlindsay.com/
Instagram: https://www.instagram.com/krystenlindsay/
Facebook: https://www.facebook.com/KrystenLindsayHagerAuthor
by Jillian Boehme
Genre: YA Fantasy
Phantom Island Book 1
YA Fantasy
Published: August 2020, 2nd Edition
Publisher: Thunderfly Productions
When one camp rule is broken, five teenagers embark on a mysterious journey full of magic, romance, and true friendship…
High school senior Whitnee has spent six years rebuilding her identity after her father's mysterious disappearance left her with more questions than answers. With her two best friends, Morgan and Caleb, she returns as a mentor to the summer camp of her childhood. Nestled in the Texas hill country, Camp Fusion is everything Whitnee remembers—except for the haunting visions that only she can see. One fateful night, Whitnee and her friends embark on a magical voyage where unexpected adventure and heart-stopping romance collide—a journey that might unlock the dark, complicated mysteries of Whitnee's family history. But will she find the answers she is looking for?
Excerpt from Windchaser: Phantom Island Book 1 by Krissi Dallas
"Kevin, how badly are you hurt?" I knelt down beside him.
"Aw, it's just my leg. I cut it pretty bad when that stupid bug showed up. Good thing Caleb found me," he muttered. And, sure enough, there was a nasty cut along the side of his right leg. Blood had dripped down and soaked into his sock and shoe. It looked deep enough to need stitches.
"We need a doctor or something," Caleb finally stated seriously, looking to Gabriel. "He can't walk on his leg, and he's losing blood."
"Oh, come on, Caleb. It's not a big deal," Kevin complained.
"Gabriel, can we just give him some of that pure Water? Won't that heal it?" I prompted. Gabriel turned and faced me then with an expression I was starting to interpret as annoyance.
"Why do you not listen to me? I explained that the pure Water is not what heals. Only a Hydrodorian, someone who is gifted with the life force of Water, can use it to heal a wound. Except—" He paused and thought for a moment. "You are not a Hydro, yet you were able to heal yourself. Perhaps you can do it again for him." He gestured to Kevin.
"You did what?" Caleb piped up, looking to me for an explanation. I didn't have the patience. Gabriel was already moving purposefully away from the group.
"I have to go to my tent and get more Water. Wait here," he called back.
"I'll go with you." I raced to match his stride and called back to Morgan to explain everything to Caleb and Kevin. "We'll be right back," I promised, purposely ignoring Caleb's protests. I wanted a minute alone with Gabriel anyway. "Could you slow down? My legs aren't quite as long as yours." He slowed so I could come alongside him, and we darted under the darkening canopy of trees. He was right. The sun was already setting, and I had no idea where we would go or what we would do once it was completely dark.
When we were out of sight from the group, I grabbed his muscled forearm and made him stop and look at me. In an exasperated and slightly shaky voice, I said, "You have got to do a better job explaining what is happening to me. I just shot a freaking tornado out of the palm of my hand! My eyes are changing colors and my body is doing weird things and I may be confused, but I'm not stupid. You're not telling me everything. I want to know what it is you're hiding." I stared up at him fiercely.
His gorgeous face hardened into stone. "I am uncertain of your meaning."
"Okay, well, let's start with this: why is the 'Attendant to the Guardian' out here on this deserted beach at the exact same time when we drop out of the sky?"
"I was having a swim," he stated with a shrug.
"You said people didn't come to this beach because they believe it's haunted. Seems a little far-fetched to me that you would choose the place where 'Travelers tend to arrive' for your private little swim." Why was he lying?
"What is your point?" he questioned me back, his face showing no sign of breaking. He crossed his arms over his chest.
I refused to be intimidated by him. "My point is that you seemed to know I was coming. You also changed completely when you found out I brought friends. I want to know why." I glared at him, and he glared back at me, his hazel eyes alight with frustration.
"You would do best to stop asking such questions. If I had not helped, you would have already died on this Island—twice. Surely I have earned some kind of trust for that." His voice was low and dangerous. He had saved me—and I supposed if he ultimately meant me harm, he wouldn't have taken the time.
"Fine," I conceded. "You don't have to tell me now, but eventually, I will find out what you're hiding."
He laughed then, a dark and humorless laugh. "You speak like a true Aero already." Then he came intimidatingly close, which nearly took my breath away. He met my eyes and whispered, "You do not know what I am capable of. I have little faith that you understand what you yourself are capable of here."
"I have a feeling you don't know that either," I shot back in a low voice, trying not to flinch from his closeness. "And I think that scares you. I've been paying attention to everything you've said so far. And you're just as confused as I am." He slowly pulled away at that. I could tell that even though he might have been expecting my arrival, he was not expecting me to produce that whirlwind or be able to heal myself. I was confused by what was happening with my body and with these abilities. And if these abilities were normal here on this island, and yet Gabriel was baffled by me, then something very strange was going on, indeed.
"You are in a precarious position, Little Traveler, and you better learn the rules quickly if you want to survive here." Then he turned and headed further into the jungle as if the matter were settled. I noticed the symbol on his shoulder again.
As I trudged behind him, I narrowed my eyes and asked, "What tribe did you say you were from again?"
"The Pyradora Tribe."
"And you have what power?" At this question, he glanced back at me. His eyes were lit from inside, and for the first time, he looked a little dangerous.
"Fire."
That shut me up for a little while.
About The Author
Krissi still goes to camp every summer with the teens of Fusion Student Ministries. Like her fictional heroine, Krissi is also a gray-eyed Aerodorian from Texas with a ridiculous fish phobia. She adores her youth pastor husband, two sons, and two Yorkies. When she's not busy throwing dance parties, both in her living room for her boys and at school for her junior high prep students, she daydreams about and writes down fantastical adventures. She has a hard time not hugging during a pandemic, so you can send her virtual hugs on Instagram, Facebook, and Twitter. Visit KrissiDallas.com for all the fun.
Contact Links
Thunderfly Productions Links:
Purchase Links
by Christine Hart
Genre: YA SciFi Fantasy, Magic Realism
Polly Michaels is trying to forget that her mom has cancer. She keeps busy at school and plods through a normal social life. Until a freak electrical storm and a unicorn appear in the orchard next to her house.
Sy'kai wakes on an orchard floor to the smell of rotting cherries and wet earth. She doesn't know where she is-or what she is-but she knows something is hunting her.
Polly recruits her friends to find the mysterious creature she saw from her window while Sy'kai, a confused shape-shifting endling from another dimension tries to piece her mind back together. Once the human girls find Sy'kai (whom they nickname Psyche) the mystery unravels and the danger facing all of them comes into focus.
A gritty struggle ranges throughout the girls' rural hometown and in the wild terrain around it. All while two questions hang over their heads. Can an alien deliver a miracle for a human mother? Can a group of teens defeat an interdimensional demon?
Located on BC's beautiful West Coast, I write from my suburban home outside Vancouver. I love writing about places and spaces with rich history and visually fascinating elements as a backdrop for the surreal and spectacular.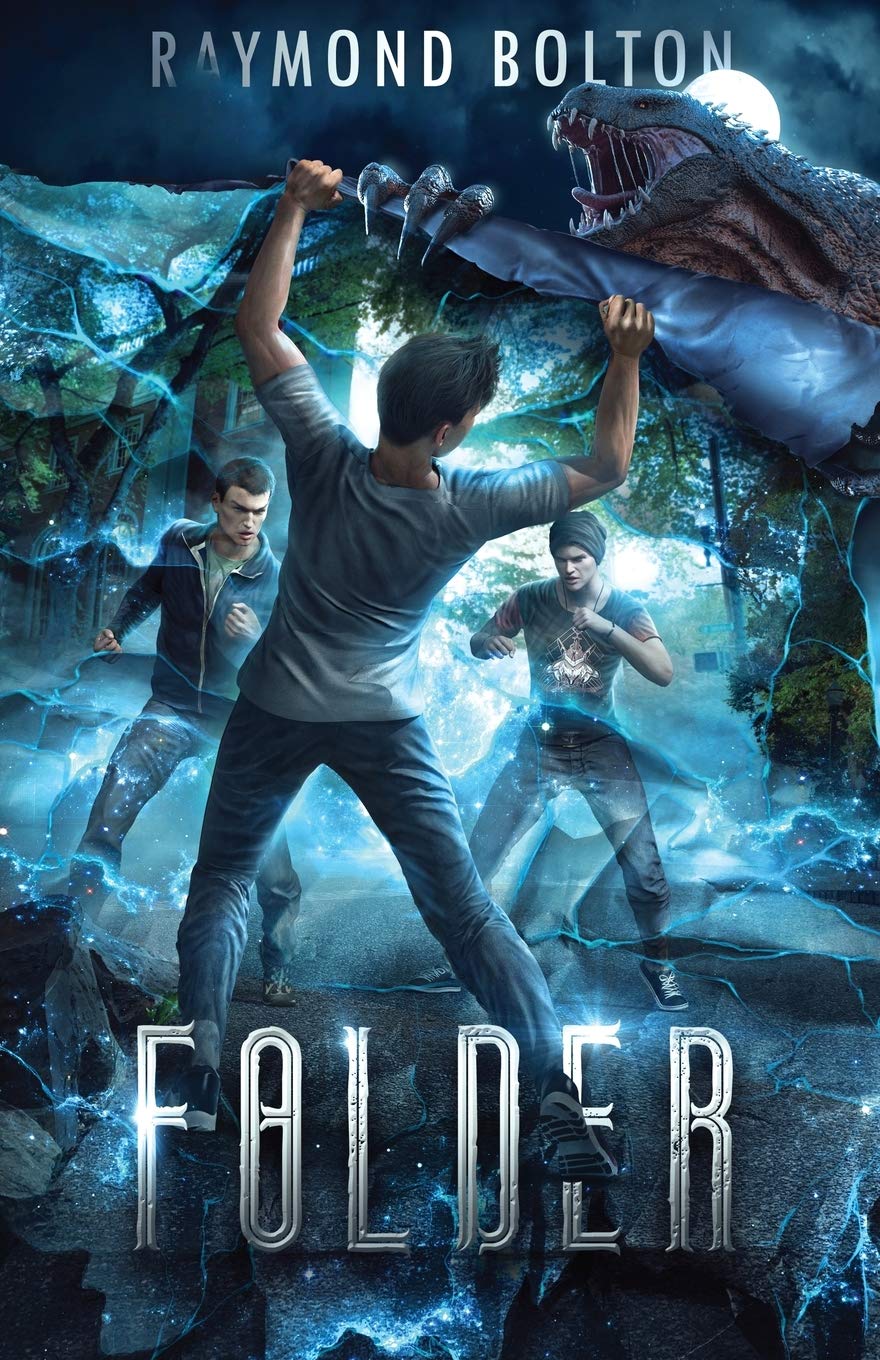 YA Fantasy, YA Sci-fi, Science Fiction
Published: November 2020
Publisher: Regilius Publishing
Eric Folder has moved to Oregon to attend Portland State University when an automobile accident leaves him stricken with migraine headaches. The resulting visual effects—something medical professionals term an aura—render him virtually blind and defenseless when a gang of street thugs attacks him. Desperate to see and needing to protect himself, Eric reflexively tears at the luminous lines of light and finds they have become tangible. When he pulls them aside, his present reality folds away with them, leaving him in better circumstances with his enemies vanished. Attempts to fold his way out of subsequent perils leave him in increasingly strange situations until, eventually, his world becomes a nightmare.
Praise for Folder:
"A wild young-adult alternate-worlds adventure that will leave you guessing right up to the end! Fans of Philip Pullman's His Dark Materials will love this!" – D. J. Butler, author of Witchy Eye
"A big, engaging ride across our infinite possibilities – and our choice to be heroes." – Anthony Dobranski, author of The Demon in Business Class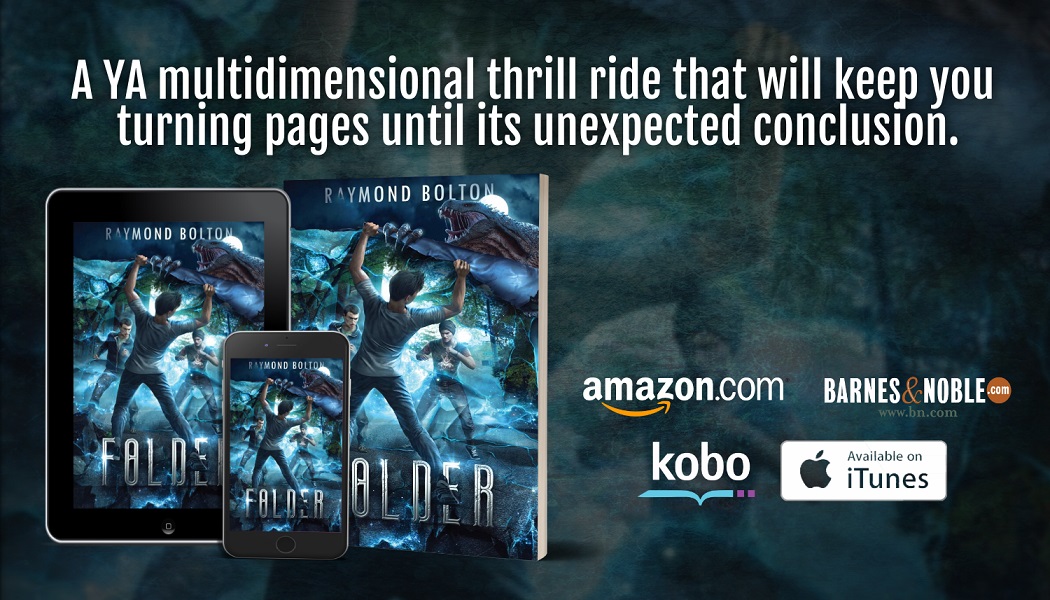 Excerpt (PROLOGUE)
I'm lost.
I don't know if I should laugh or cry when I say this, because I sound as if I'm repeating words from a hymn or I'm in need of a compass, or else I've given up completely. The thing is, I'm terrified because all these things are true and I don't know how to fix them. I would say a prayer if I thought someone could hear, but even if they did, I don't think this is a place where prayers get answered. If I had a compass, knowing whether I'm facing North or South wouldn't take me away from this place, let alone back to where I started. In fact, no one can get me out of the mess I'm in, except maybe me, and I'm as scared to try to change what has brought me here as I am afraid do nothing.
I remember when my friends and I were kids and we hid in the bushes and pretended there were monsters coming after us. Well, now the monsters are real. I've been listening for what seems an eternity to their angry snorts and the clatter and scratches of their claws on the large stone surface where those creatures are gathered. Every now and then, one of them hisses and another does the same in response. The rate of their footsteps escalates and I imagine two of them colliding and squaring off in an expression of indignation. It's too dark to see whether this has actually happened, or if it's just my imagination, but the pounding of my heart in face of the impending danger keeps me riveted on what's happening.
As I hide in a clump of bushes and the minutes pass, I'm more than a little relieved that they're taking so long to find me. Unexpectedly, the full moon peeks through a break in the cloud cover and the scales on the bodies of several great beasts glisten. Each is twice the size of a bullmastiff and I count six of them several yards from here. Their eyes glow whitish gold and appear to have vertical slits, although it's hard to be sure at this distance. As they circle a spot where I was standing a short while ago, sniffing the ground in several directions around it, one of them raises its head and opens its mouth, baring rows of long, needlelike teeth. I expect the creature will howl. Instead, a rasping reptilian sound emerges and I shudder, wondering what kind of beings they are.
Although I've recently arrived, from my earlier experiences and the landscape's layout, I recognize this place as being near where the street car used to stop in a time that's lost to me forever. The place where I'm hiding used to be the parkway where Park crosses Mill—or what used to be Park and Mill before everything transformed into this new reality. There aren't any streets anymore and I'm surprised there are even deer trails to mark where Park and Mill once intersected. This used to be Portland State University, but now everything's grown over and forested. The clock tower has vanished, as have the student union and the rest of the buildings that were part of the campus.
Without warning, a thought bubbles up from a world I'll never see again and I almost cry out loud. Cursing this lack of control, I force my idiot self to keep quiet. Still, there is some truth to the thought that this situation is what Dad would have called a mixed blessing. It's because it rained so hard that those things haven't discovered me already. Here I am, kneeling on a thick bed of leaves. If they weren't so soggy, they would crackle each time I move and announce my location. Instead, their wetness muffles whatever noise I might otherwise make. On the other hand, because the night is so cold and water is starting to soak through my pants, I'm beginning to shiver and I'm afraid I might sneeze any minute. If I do, those creatures will certainly hear and I know I will die because I'm sure they can out-run me.
The breeze that's been chilling me starts to increase and I wonder if another storm is building. The last of autumn's leaves whip though the air and there is a sharp crack above me. The creatures turn in my direction and two cock their heads. A third one starts walking toward me and I hold my breath, wondering whether it will continue to advance, when a second crack drops a large bough into the bushes a few yards to my right. The creatures stop and stare at the spot where it landed. Then, apparently satisfied they understand what caused the disturbance, they resume their search in the original location. Realizing I've been holding my breath and that I need to breathe, I inhale deeply, then exhale. My breathing is starting to grow normal when something grabs my shoulder.
About The Author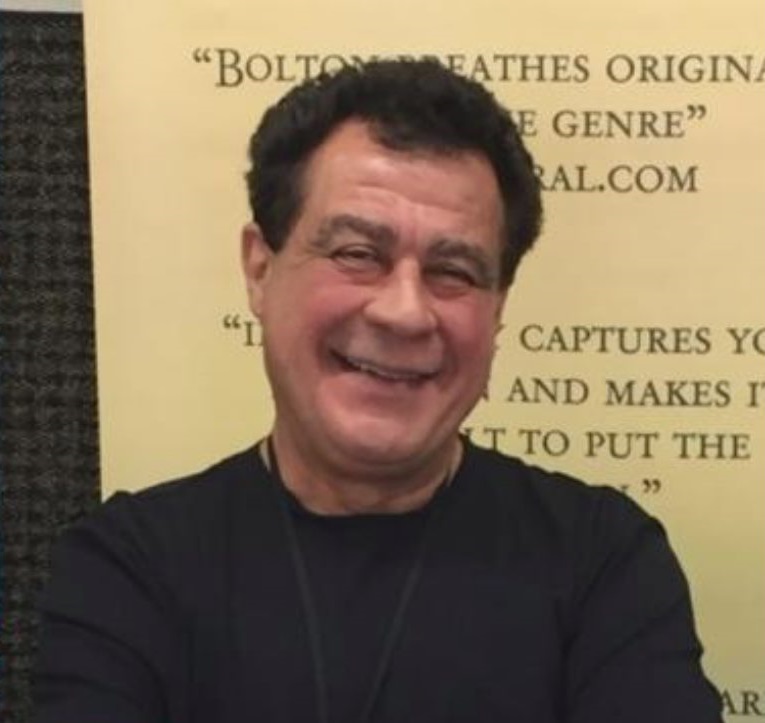 Raymond Bolton lives near Portland, Oregon with his wife, Toni, and their cats, Max and Arthur. His epic fantasies are published by WordFire Press, publisher of the Dune and Star Wars novels, and have received endorsements by the late Mike Resnick and award-winning author Paul Kane.
Contact Links
Purchase Links