On Tour with Prism Book Tours.
by Tyson Clarke
MG/YA Fantasy
Paperback & ebook, 304 pages
October 19th 2015
Upon the shores of the Laughley Sea, in the shadows of the jagged Northland Mountains and not so far south as the blistering Aronee Desert, there exists a land of lush forests and golden plains. This land is known as Lynsid, a once great nation that has suffered through more than a decade of demoralizing wars. The brothers Tevanon and Kensic were born to Lynsid like their parents and grandparents before them. They know no other life and have never been outside the borders of their homeland. Lynsid, however, is on the verge of collapse and rumors of a Vlagen invasion spur a mass migration. At first, the brothers have no intention of leaving their birthplace, but soon enough they have no choice and find themselves on the trail to a land called Turlot where their Great Uncle Welksley resides.
At just thirteen-years-old, Tevanon is already highly skilled in swordsmanship, and his nine-year-old brother Kensic is mentally gifted. These attributes are useful, but the journey to Turlot will test not only their brawn and brains, but also their faith and tactfulness. The brothers learn quickly the world is filled with endless adversity. Treachery is in plain sight, evil sorcery is silently stirring, and an immortal army is lying in wait! If the brothers wish to survive, they must be vigilant, they must be brave, and they must believe in themselves.
Excerpt:
Avor, Wix and Hedik surveyed the dead brigands in hopes of finding one of them alive so as they could question him. As they meandered through the scattered bodies, they found men from every nation, men of light skin and dark, short of stature and tall, and the weapons they carried were equally assorted. The question, of course, was what brought together this reckless collection of thugs and criminals? What was their purpose?
"Water," a voice grumbled. "Water."
Avor followed the voice to a man lying on his stomach with a trench-like gash spanning the width of his back. This man appeared to be of Irbanian descent, having the light brown skin and dark black hair of that race of people. His beige colored shirt was soaked in blood, his face smeared with sweat and dust, and his hand still wrapped around the grip of his curved short sword. "Water," he said again no louder than before.
"What is your name?" asked Avor as he knelt beside the man and reached for his leather flask.
Latu opened his mouth and Avor attempted to pour in some water. As the wounded man lapped at the liquid he was so yearning, he mumbled, "Thank you."
"A man come through… Dezvil, lookin' fer men… who wasn't afraid to die. He paid up front in silver and said if we join him, there would… be gold, and no end to it… water, please…"
Avor poured more water into Latu's mouth.
"Who was this man?" asked Avor.
"He called himself Akarid."
"I don't… know… he wore a black… robe… with yellow…" Latu's voice was fading with his life.
"Yes, the sorcerer, but Akarid has been dead for five hundred years."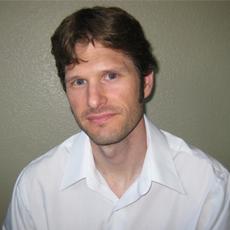 Tyson Clarke
 attended San Jose State University where he studied creative writing and film production. Post graduation, he found success as a technical writer then pursued other interests before rediscovering his passion for writing stories with encouragement from his wife and biggest fan.
Website – Goodreads – Facebook


Tour Giveaway
$25 Amazon eGift Card (open internationally)
Print copy of Tevanon and Kensic: Turlot (US only)
ebook of Tevanon and Kensic: Turlot (open internationally)
Ends January 30th